Special Holiday Pricing…plus a Special Holiday Shopping Experience


Great gifts, great deals and a peaceful, friendly no-pressure shopping experience
November  25th – December 24th
The 2019 Happy Holiday Shopping SPECIALS
1) Bullfrog Spas Year End Factory Rebates

•. A9L – $1000 rebate

• STIL and A Series – $500  rebate

• R Series – $400  rebate

• X Series – $200  rebate

2) Free Delivery on any Hot Tub, Pool Table, Game Table or Rainbow Play System within 25 miles.

3) 0% financing for 48 months or 10% cash discount on Bullfrog Spas Hot Tubs, All Pool Tables, All Shuffleboard Tables

4) $200 off any Classic Game Table with purchase of a Bullfrog Spas Hot Tub, any Pool Table, or Shuffleboard Table.
---
Shop Small and Buy Local 

Why Shop Local? Keep Dollars in Portland's Economy
For every $100 spent at a locally owned business, $45 stays in the local economy, creating jobs and expanding the city's tax base. Compare that with the fact that with $100 spent at a national chain or franchise store, only $14 remains in the community. Happy Holiday Shopping!
 Click here to learn about the top ten reasons to shop local.  
---
There is suc
h a thing as a peaceful holiday shopping ex
perience  
Skillful Home Recreation VIP Personal Holiday Shopping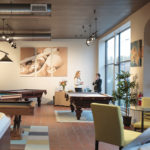 Do you dread the holiday shopping stress and crowds? This holiday season enjoy a personal VIP shopping experience tailored to your needs. Turn holiday shopping into a fun, relaxing, personalized experience. It's free…but the schedule fills up fast! As always, we promise an engaged, no-pressure, informative experience. We also have a very convenient location, off-road parking, wheel chair accessibility, and a large beautiful showroom. A very limited number of after-hours time slots are available. Make an appointment today…and Happy Holiday Shopping!
Click here to See our Favorite Reviews and Testimonials.
Click here to Schedule an VIP Personal Shopping Appointment.
---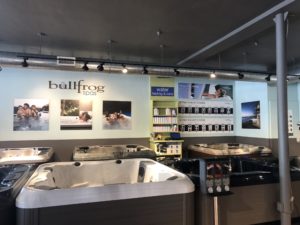 Everything on the Showroom is Ready for Play
While we are happy to offer these awesome Holiday Specials, we recognize that it takes only a minute to understand a SALE, but it takes some time to understand REAL VALUE.
When you call or visit us, we'll have the answers you are looking for.  We have many Bullfrog Hot Tubs, Brunswick and Olhausen Pool Tables, Classic and Table Games – including Ping Pong, Foosball, Shuffleboard, Air Hockey, Dome Hockey, Darts and much more on the showroom floor to discover, play and try. Happy Holiday Shopping!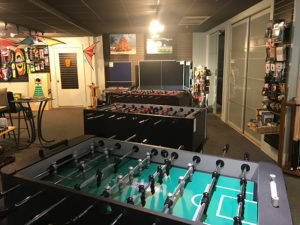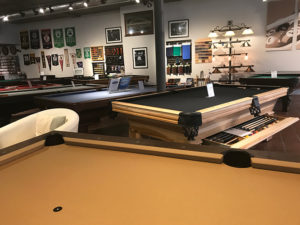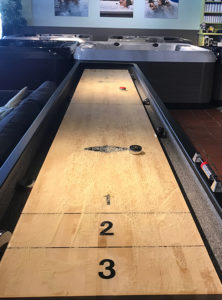 ---
Thinking about a Hot Tub and wondering how much it will cost?

Because there are so many options, the best and quickest way to find out how much your dream Hot Tub will cost is to design it!  Use our online tool to design your Dream Spa. It only takes a few minutes and shortly after you complete your Hot Tub design, we will follow-up with pricing and additional information.
Click here to Design Your Spa and Get a Quote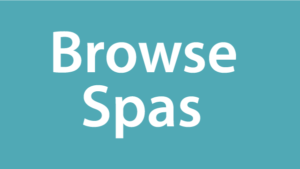 Not ready to start Designing? You can learn more about Bullfrog Spas and browse the many options right here on our website. Or contact us for an appointment or questions.
Click here to Browse Hot Tub Options Online
Click here to Schedule and Appointment and Browse in Person
---
Peaceful Body. Peaceful Mind. Peaceful Home.

Your reasons for owning a Bullfrog Hot Tub are personal to you. You may want to  entertain friends, improve your landscape, spend quality time with family, and to be healthier and happier. In fact, spa owner's often express that they actually experience benefits they never expected when they get their new hot tub. But near the top of everyone's list is to alleviate stress and relax, in short, have a more peaceful body and mind.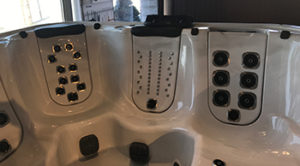 The one-of-a-kind JetPak Therapy System® is crafted to relieve your aches and pains, reduce your stress, and give you that perfect place to connect with loved ones. This one-of-a-kind hot tub therapy system ensures that your hot tub experience is personalized just for you. Each JetPak® is designed to provide a unique massage with unique wellness benefits. You design your spa specifically for your personal needs and preferences. And here's the best part…because JetPaks® are interchangeable, you can move them to different locations within the hot tub layout, easily and quickly, at any time. 
---
A perfect fit for your Maine Lifestyle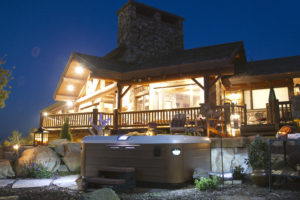 There are so many things that add to Maine's beauty, charm and way of life. Let us help you upgrade your a fun-loving, active, lifestyle and home.  Enjoying life is the "Way Life should Be" in Maine, NH and a little beyond….and Happy Holiday Shopping!