Bring peace back into your life with a Bullfrog Spa

Announcing Special Pricing on Bullfrog Spas 
The weather's cooling down, days are getting shorter, and schedules are getting busier. Are you ready to bring a little more peace into your life with your own hot tub? We're announcing Special Pricing on Bullfrog Spas. Watch our video below, and you will see an example of just what we're talking about. Maybe you can relate.
Skillful Home Recreation is offering clearance pricing and special financing October 8th – October 22nd.. Here's the offer:
Special Financing
0% APR for 24 months* or 3.99% for 60 months*
* for Qualified Buyers
Special Pricing:
Large Tubs – $750-$1000 in savings
Medium Tubs – $350-$650 in savings
Small Tubs – $250-$500 in savings
Wonder how much your Spa will cost?

Because there are so many options, the best and quickest way to find out how much your dream Hot Tub will cost is to design it!  Use our online tool to design your Dream Spa. It only takes a few minutes and shortly after you complete your Hot Tub design, we will follow-up with pricing and additional information.
Click here to Design Your Spa and Get a Quote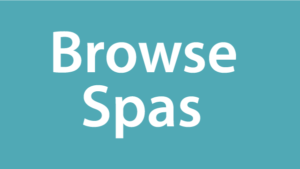 Not ready to start Designing? You can learn more about Bullfrog Spas and browse the many options right here on our website. Or contact us for an appointment or questions.
Click here to Browse Hot Tub Options Online
Click here to Schedule and Appointment and Browse in Person
A peaceful, local shopping experience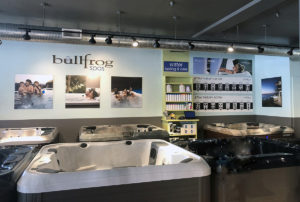 Skillful Home Recreation is your exclusive Bullfrog Spa® Hot Tub Dealer in Portland Maine. One of the many reasons we believe we are the very best place to buy a hot tub in the southern Maine and NH because we provide a friendly, peaceful and truly no-pressure customer experience. We also have a very convenient location, off-road parking, wheel chair accessibility, and a large beautiful showroom.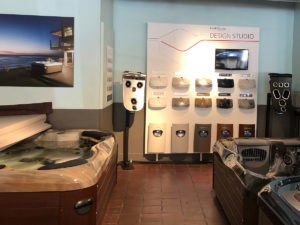 At Skillful Home Recreation, we recognize that it takes only a minute to understand a SALE, but it takes some time to understand real value. When you call or visit us, we'll have the answers you are looking for.  We have many Bullfrog Hot Tubs on the showroom floor to discover and try. Design your dream hot tub at our Hands-On Design Studio (right) and begin to experience the look, touch and feel of your perfect spa.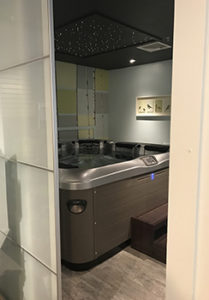 A great value, superior design and engineering, energy efficiency, features and accessories are all important pieces in your decision-making. But the most important question to answer is "How does it feel?"
Schedule a test soak by clicking here  (or the button on the top left) in our beautiful, very private…and peaceful…tub room, complete with a shower and dressing room. After you learn all the facts, take the time to experience the magic of Bullfrog Spas® for yourself.
Peaceful body. Peaceful Mind.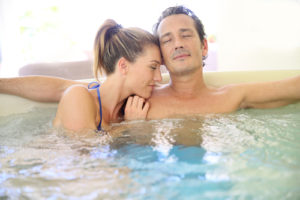 Your reasons for owning a Bullfrog Hot Tub are personal to you. You may want to  entertain friends, improve your landscape, spend quality time with family, and to be healthier and happier. In fact, spa owner's often express that they actually experience benefits they never expected when they get their new hot tub. But near the top of everyone's list is to alleviate stress and relax, in short, have a more peaceful body and mind.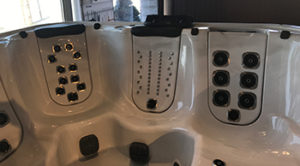 The one-of-a-kind JetPak Therapy System® is crafted to relieve your aches and pains, reduce your stress, and give you that perfect place to connect with loved ones. This one-of-a-kind hot tub therapy system ensures that your hot tub experience is personalized just for you. Each JetPak® is designed to provide a unique massage with unique wellness benefits. You design your spa specifically for your personal needs and preferences. And here's the best part…because JetPaks® are interchangeable, you can move them to different locations within the hot tub layout, easily and quickly, at any time.
A more Peaceful Home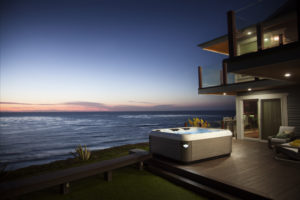 Improve your relationships, enjoy quality family time, and enjoy a more peaceful home with a new Bullfrog Spa. Bullfrog Spas offers a variety of spa models to suit every home, outfitted with the massages of your choice. You'll love knowing where the kids are, spending time with those you love, and more peace in your home with just a few minutes of spa time each day.  Time and again we hear how much our customers' personalized hot tub relieves their pain, reduces their stress and brings their family closer together. Even better is the peace of mind our customers get from owning the lowest maintenance, most energy efficient hot tubs in the world. Nothing brings peace to your home like a new Bullfrog Spa. And now you can make affordable ease and comfort a part of your everyday routine.
A perfect (peaceful) fit for your Maine Lifestyle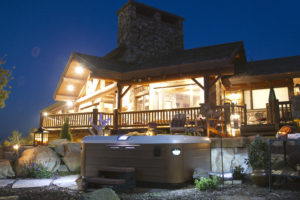 There are so many things that add to Maine's beauty, charm and way of life. This time of year we enjoy the crisp cool mornings and warm afternoons, the beautiful autumn leaves and vistas, and picking apples at the local orchards. Perhaps you love to sail, kayak, hike, surf or just relax and enjoy the beauty of nature. Bullfrog Spas® are the perfect hot tub for enjoying the "Way Life should Be" in Maine, NH and a little beyond.
Bullfrog Spas, Peaceful Body, Peaceful Mind, Peaceful Home…