Floor Model Hot Tub Clearance Sale
Free Water Care Upgrades
March 13th – 24th
All Bullfrog Spa Hot Tub Floor Models are priced to go….and once they are gone, so are these great prices. Don't miss this great opportunity for savings. Floor Model discounts start at $500 and go up to $1500.
FREE WATER CARE System Upgrades with Purchase
Free EOS + @ease Kits with the purchase of any STIL, A Series or R Series Bullfrog Spas Hot Tub
Or Free WellSpring HO Ozone + @ease Kits with the purchase of any X Series Bullfrog Spas Hot Tub
LEARN MORE about  BULLFROG SPAS Premium Water Care Systems
Evenings are getting longer and spring is just around the corner. From now through March 24th, Skillful Home Recreation is having a  great sale where you'll find special pricing  on all Floor Models plus a premium water care system upgrade on all Bullfrog Spas included for free. Your perfect, personalized spa with JetPak Therapy is not only among the most energy efficient, but the lowest maintenance hot tubs in the world. Bullfrog Spas are manufactured right here in the USA and offer a revolutionary hot tub experience that's inexpensive to run and easy to care for.  Bullfrog Spas, Peaceful Body, Peaceful Mind, Peaceful Home.
Design your Spa and Get a Quote

"How much will my Hot Tub cost?" has to one of our most frequently asked questions. Because there are so many great options, the best and quickest way to find out how much your dream hot tub will cost is to design the perfect spa for you with our online tool. It's easy, fun, only takes a few minutes. Shortly after you complete your hot tub design, we will follow-up with pricing and additional information about your Bullfrog Spa. Follow the links below
Click here to Design Your Spa and Get a Quote
Not ready to start Designing? You can learn more about Bullfrog Spas and browse the many options right here on our website. Or contact us for an appointment or questions.
Click here to Browse Hot Tub Options Online
Click here to Schedule and Appointment and Browse in Person
The Maine Lifestyle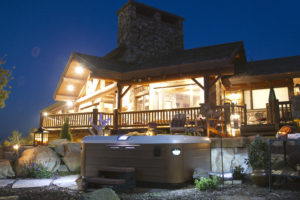 The evenings are getting longer and there are so many opportunities to enjoy Maine's beauty, charm and way of life, including watching the sun set in your new hot tub. Let us help you upgrade your fun-loving, active, lifestyle and home.  Enjoying life is the "Way Life should Be" in Maine, NH and a little beyond.