As human beings, we are strongly drawn to the water for its soothing and healing properties. And science has shown us that our connection with water goes beyond the physical. In Maine, there is really nothing like soaking in a hot tub when it's so cold outside! And if you have a few aches and pains, there is nothing like the benefit of a hot tub with therapeutic jets.
Skillful Home Recreation is proud to be your exclusive Bullfrog Spas dealer in Southern Maine. Our knowledgeable staff has a great deal of information on hot tubs and swim spas and can help you choose the perfect one for your lifestyle. We offer test soaks by appointment in our private hot tub room, complete with a shower and dressing room. You can make an appointment here.
Questions? Call us at 207-775-3000 or  fill out our contact form.
Click here to read our favorite Reviews and Testimonials.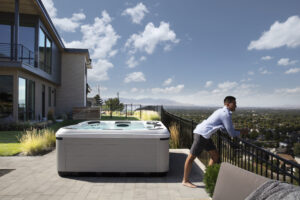 "Walk along the water. Move across its surface. Get under it. Sit in it. Leap into it. Listen to it… let it heal you and make a better, stronger version of yourself."
– Dr. Wallace J. Nichols
Author of Blue Mind: The Surprising Science That Shows How Being Near, In, On, or Under Water
Can Make You Happier, Healthier, More Connected, and Better at What You Do.