All of these accessories are available as options with the Bullfrog Spas Swim Series
Bullfrog Spas Swim Series Fitness Kits
The Bullfrog Spas Fitness Kits come equipped with a proprietary adjustable row bar, handles, or resistance bands of different lengths and intensities.
 Bullfrog Spas Swim Series Steps
This attractive, cabinet-matching and long-lasting steps feature non-slip tread surfaces and a sturdy handrail to provide you secure access for a more peaceful spa experience.
Bullfrog Spas Swim Series SwimDek
SwimDek is a deluxe aquatic surface that enhances safety, style, and comfort. Made from a soft, durable foam that won't absorb water, SwimDek provides exceptional traction for slippery surfaces. Plus Swimdek adds more comfort to seat surfaces.
Bullfrog Spas EOS™ O3 Ozone
Bullfrog's EOS O3 is a revolutionary automatic water purification system that eliminates impurities using the powerful oxidation properties of O3 gas. This unique three-part system works by generating ample amounts of O3 gas, combining it with spa water in an isolated high-contact mixing chamber, and then filtering out over 99% of excess ozone to prevent negative off-gassing effects.
Bullfrog Swim Series Zero Gravity Spa Hammock
This may just be considered a "must-have".  The first-of-its-kind, patent-pending Bullfrog Swim Series Zero Gravity Spa Hammock combines stretch suspension and buoyancy to create a zero-gravity effect that's impossible to describe.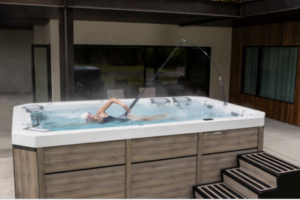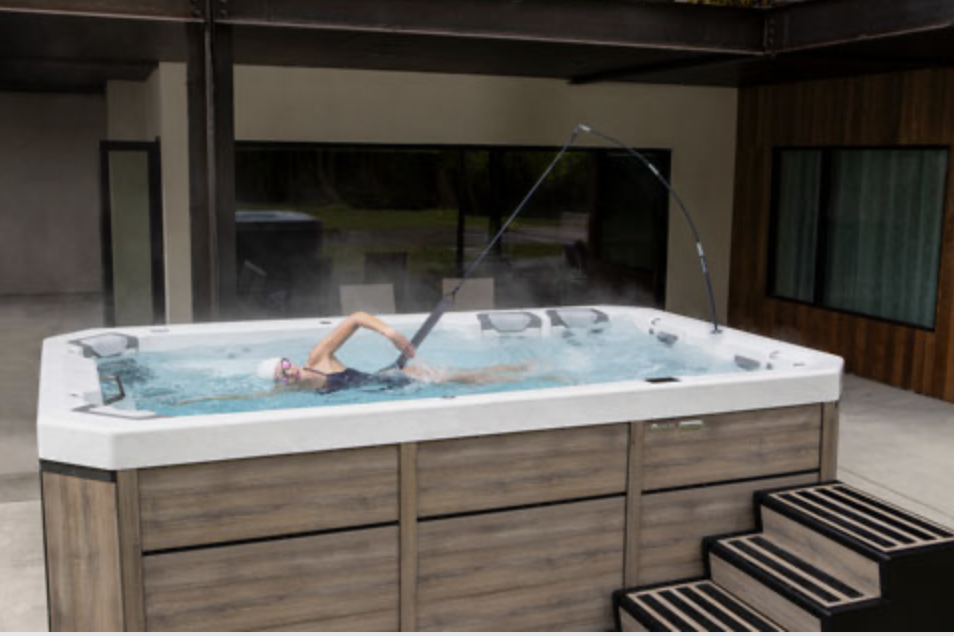 Bullfrog Swim Series Swim Tether
The Bullfrog Swim Series Swim Tether provides an exceptional experience for swimmers of all skill levels. Strap the belt to your waist and swim unencumbered for a high resistance, low-impact workout.
Bullfrog Swim Series Integrated In-spa Surround Sound
Great music and Spas just go together by enhancing your ambience and driving your workouts The Bullfrog Spas Swim Series premium audio system provide deep, rich sound with clear high tones, an in-spa subwoofer, and easy connectivity for your phone or digital audio player.
Bullfrog Swim Series Cover Lifter
Simply push the spa cover open with the convenient levered handle and enjoy the provided privacy while you swim, play, or relax.
Bullfrog Spas CloudControl 2™ Wifi Module
Control your Swim Series Spa from your smart device. Monitor operational status and control temperature, lights, pumps, and filtration settings—anytime, from anywhere. Control your Swim Series Spa from your smart device. Our app provides connection from wherever you go, and can be integrated to Amazon Alexa and Google Home smart systems.