Trica Sara I Bar Stool
Specs
The Trica Sara I Bar Stool is a transitional-style, stationary bar or kitchen stool.
Skillful Home has many Trica Stool floor models at the showroom and we recommend coming in to sit, compare, see the swatches first-hand and make your selections. You can schedule a shopping appointment online below.
MSRP price for the base Trica Stool: $302-$830. Skillful Home discounts apply for multiple chairs.
Comfort Seat: included
Customized Height: optional
10 year Limited Warranty
Materials: Certified Renewable Wood, Recycled and Re-cyclable steel, aluminum and plastic, lead-free and VOC-free paint.
Stool are durable, fixable and recyclable. Heavy-gauge steel for durable and efficient welding joints. All our stool bases are fully welded to guarantee that they will not loosen up.
Dimensions, wood swatches, painted surface swatches, leather swatches, fabric swatches and vinyl swatches are in the image gallery to the left or above on this page. Click on any image to enlarge.
Questions? Give us a call 207-775-3000
Contact Us For More Information
Schedule an Appointment
Description
Trica Sara I Bar Stool 
Interested in a table to go perfectly with your bar stools for your game room or kitchen? Click on an image below.
Trica Rome Table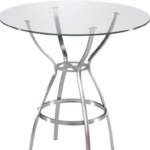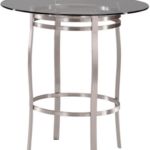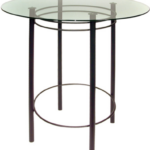 Features
Trica kitchen and barstools are custom made to the specifiactions you need, are built to last, and arrive very quickly. Stop by our showroom to see our samples.