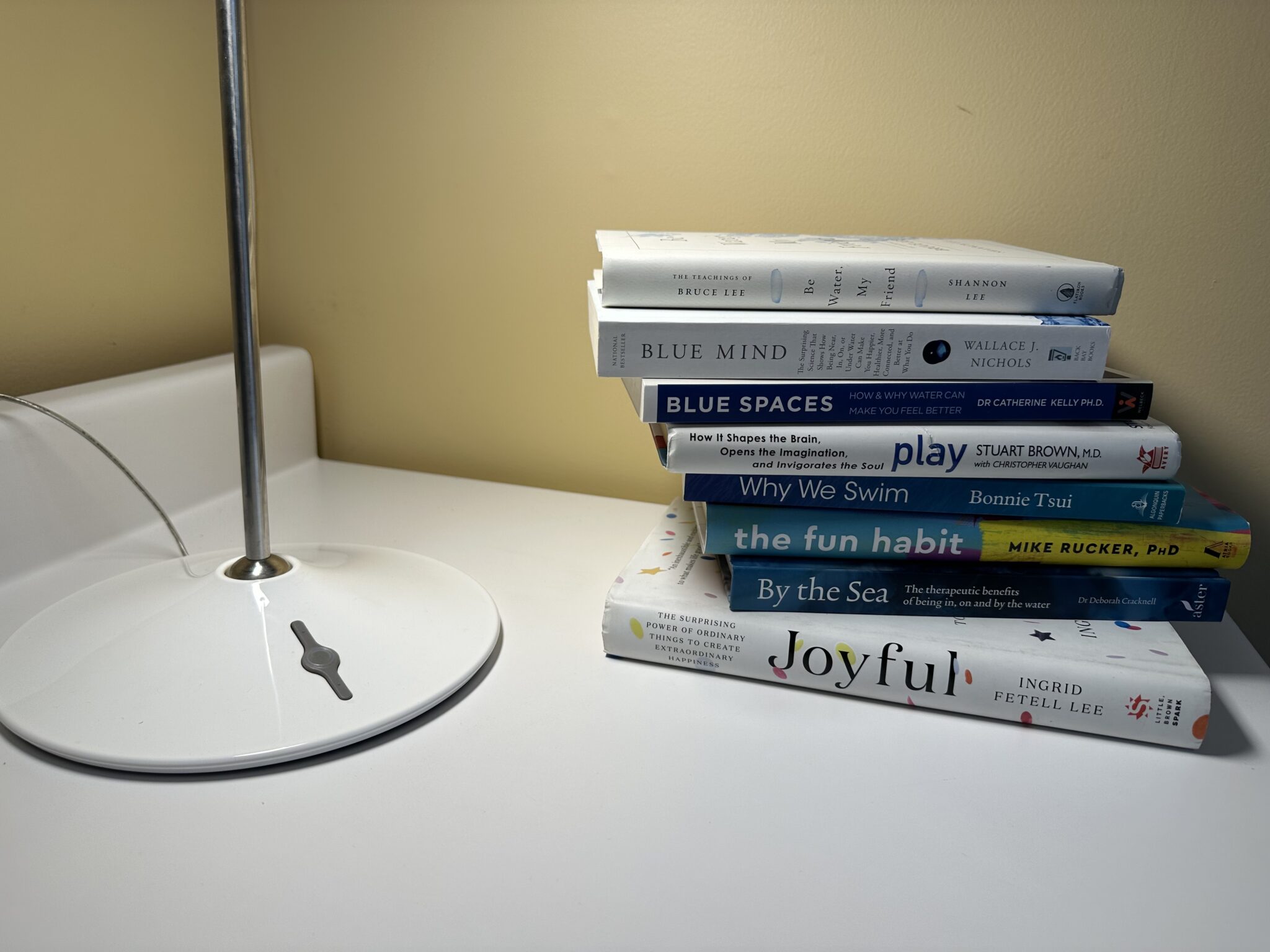 Our Favorite Books on Fun and Relaxation
Here are some of our current favorite books at Skillful Home on our favorite topic – Fun and Relaxation. 
Be Water, My Friend

The Teachings of Bruce Lee
Shannon Lee
"Be Water, My Friend" by Shannon Lee is a book that draws inspiration from the philosophy and life of her father, Bruce Lee. Here are some key points from the book:
• The book is organized around the metaphor of water, which Bruce Lee used to illustrate the qualities of adaptability, fluidity, and strength.
• Water can take on any form or shape, and it can adapt to any situation or environment. Similarly, humans can cultivate a mindset of adaptability and flexibility in order to thrive in challenging situations.
• The book explores Bruce Lee's philosophy of martial arts and his emphasis on the importance of self-expression and self-discovery.
• Bruce Lee's approach to martial arts emphasizes the importance of the individual, and encourages practitioners to find their own unique style and way of moving.
• The book also touches on Bruce Lee's cultural impact and his role as an Asian American icon.
• Throughout the book, Shannon Lee reflects on her own life and the lessons she has learned from her father's philosophy, and offers advice for readers on how to cultivate their own adaptability and resilience.
Overall, "Be Water, My Friend" offers a unique perspective on the philosophy and life of Bruce Lee, and encourages readers to embrace the qualities of adaptability and fluidity in their own lives.
---
Blue Mind


The Surprising Science that Shows How Being Near, In, On or Under Water Can Make You Happier, Healthier, More Connected and Better at What You Do


Wallace J. Nichols
"Blue Mind" by Wallace J. Nichols is a book that explores the emotional, psychological, and physical benefits of being near, in, on, or under water. Here are some key points from the book:
• Being in or near water can induce a state of "Blue Mind," which is a calm, peaceful, and meditative state of mind that promotes relaxation, creativity, and overall well-being.
• Water has a profound impact on the brain and can activate the parasympathetic nervous system, which is responsible for the "rest and digest" response.
• Blue spaces can provide a respite from the constant stimulation and stress of modern life and can help improve mental health conditions such as anxiety and depression.
• The book also explores the cultural and historical significance of water, as well as the threats to our waterways and oceans and the importance of conservation efforts.
Overall, "Blue Mind" offers a compelling case for the importance of water in our lives and suggests ways to incorporate more "blue" into our daily routines for better physical and mental health.
---
Blue Spaces


How and Why Water Can Make You Feel Better


Dr. Catherine Kelly PhD
"Blue Spaces"  by Dr. Catherine Kelley, PhD is a book that explores the benefits of being near or in water, such as oceans, lakes, and rivers, for mental and physical health. It discusses the science behind how water impacts the brain and body, and offers practical tips for incorporating blue spaces into everyday life.
---
Play


How It Shapes the Brain, Opens the Imagination, and Invigorates the Soul


Stuart Brown, MD with Christopher Vaughan, founder of the National Institute for Play
"Play" by Stuart Brown, MD is a book that explores the importance of play for human development and well-being. Here are some key points from the book:
• Play is not just for children; it is a vital component of human development and can benefit individuals of all ages.
• Play can take many forms, including physical activities like sports and games, creative pursuits like art and music, and social interactions like humor and storytelling.
• Play allows individuals to explore their environment, develop new skills, and experiment with different ways of thinking and behaving.
• Play also promotes social connections and can strengthen relationships between individuals and within communities.
• The book explores the negative consequences of play deprivation, including increased stress, depression, and social isolation.
• Brown also argues that play can be an important tool for addressing social and global challenges, such as conflict resolution, creativity, and innovation.
Overall, "Play" emphasizes the importance of play for human development and well-being, and suggests ways that individuals and society can promote play in everyday life.
---
Why We Swim
Bonnie Tsui
"Why We Swim" by Bonnie Tsui is a book that explores the various reasons why humans are drawn to swimming. Here are some key points from the book:
• Swimming is a primal urge that is deeply rooted in our evolutionary history. It connects us to the natural world and allows us to tap into our most basic instincts.
• Swimming has numerous physical and mental health benefits, including improved cardiovascular health, increased strength and endurance, and reduced stress and anxiety.
• Swimming can also be a form of meditation, allowing us to enter a state of flow and focus solely on the present moment.
• The book explores the cultural and historical significance of swimming, from its roots in ancient civilizations to its role in modern-day sports and leisure activities.
• Tsui also discusses the dangers of swimming, including the risk of drowning and the impact of pollution on our waterways.
Overall, "Why We Swim" is a celebration of the joys and benefits of swimming, as well as a call to action to protect our water resources and promote safe swimming practices.
---
The Fun Habit
How the Pursuit of Joy and Wonder Can Change Your Life


Mike Rucker, PhD
In the book The Fun Habit by Mike Rucker, PhD, Rucker focuses on the importance of having fun and incorporating play into daily life. Rucker argues that play is essential for creativity, stress relief, and improved relationships. He provides practical strategies for incorporating play into work and personal life, including setting aside time for play, experimenting with new activities, and changing one's mindset to prioritize fun. Rucker also discusses the neuroscience of play and its impact on the brain.
---
By the Sea
The Therapeutic Benefits of Being in, on and by the Water


Dr. Deborah Cracknell
By the Sea by Dr.Deborah Cracknell  explores the therapeutic benefits of being by the sea. Dr. Crackwell argues that spending time by the sea can improve mental health, reduce stress, and increase feelings of happiness and well-being. She also examines the impact of the ocean on human physiology and discusses the history and cultural significance of the sea.
---
Joyful
The Surprising Power of Ordinary Things to Create Extraordinary Happiness


Ingrid Fetell Lee
In Joyful by Ingrid Fetell Lee,Lee  explores the science of joy and how to create a more joyful life. She discusses the elements of joy, such as bright colors, round shapes, and a sense of abundance, and provides practical tips for incorporating joy into daily life. Lee also examines the cultural and psychological significance of joy and argues that it is essential for human well-being.
Browse our Bullfrog Spas Swim Spas
Browse our Bullfrog Spas Hot Tubs
Browse our Olhausen and Brunswick Pool Tables